DR Grand Prix is valiantly churning out Q&As with the team, equally valiantly translated into a form of English by the Eurovision blogosphere – we've links to the lot on our #escdk players page. Maybe they're saving the good stuff for the big documentary (translation). There's an art to writing a compelling news story, which is why we stick to listing and snark.
Anyway, what about the host, eh? Our early thought was Birgitte Nyborg, who doubtless speaks lycée level French, to match her near flawless English, but we've decided she's a bit too Petra Mede-esque.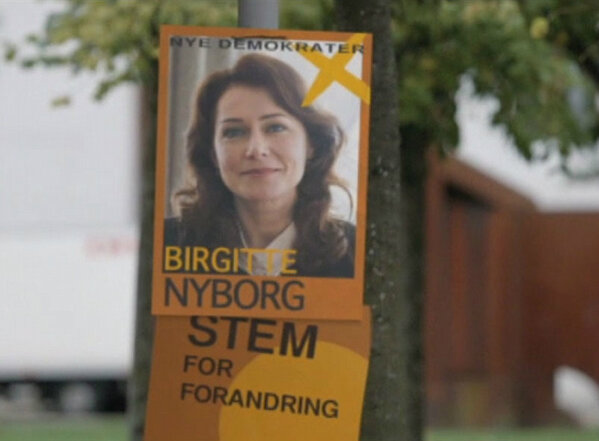 Someone else who had an early thought was Christiane Schaumburg-Müller O'Connor:
Who she? In short, a TV hostess, actress, model and dancer, with a BA in Communications and French from Copenhagen Business School. Married to a half Irish rapper by the name of L.O.C., taking her up to the requisite four names. Tess Daly in the danski Strictly Come Dancing until last year, she's just published a book of beauty tips. Here's her website | Facebook | Twitter | Instagram.
Speaks French. Dances. Can you see where we're going with this? L.O.C. also has TV cred (ish – judge on The Voice), so maybe he could be the Dr Death to her Tooth Fairy?
In the spirit of DR's series here's fem skarpe to Christiane from her Q&A in Politiken's Mit forbrug column on Saturday, entitled "I've a whole room for clothes".
Is there anything you won't eat? – I don't like shellfish. Lobster, shrimp, oysters, things like that. 

How do you treat yourself in the evening? – I'm a dark chocolate addict, I treat myself to it every night. It's terrible – I probably eat half a bar a day. And good tea – black or red Rooiboos, I buy it at Tante T or Palais des Thés in Paris. My family has a flat in Paris and I go there a lot.
What about second hand? – Shoes have to be new, but  I like saving money on clothes and bags, ha ha. I buy a lot abroad – vintage is ridiculously expensive in Denmark, and the whole idea is to get a bargain. I bought a Chanel jacket in England for DK 4000 – it would have cost DK 20,000 or more here.
Are you a handyman? – My friend's father Jack gave me a course in how to use a drill, and I've hung my TV on a load bearing wall. The best thing I got last year was an electric screwdriver, and I love my pink toolkit. There's something really cool about doing things yourself – who cares if it goes a bit wrong?
What means of transport do you own? – A Mercedes and a Batavus bike. I love cycling, unless I'm wearing a really tight skirt or I'm on the way to a photo shoot, when you can't have messy hair. I don't mind if it rains on the way home. If you get soaked you can have a nice hot bath and crawl into cosy jogging bottoms and a big jumper.
Bonus quote:
I do SEQUINS and I do specs.
For the rest see the online version, retitled to give a tip to her hairdresser, and a Google translation, which has the Danglish off pat.
Here she is in action, showing once again in Denmark it's all about the host: